Cooking Classes for Eating Disorder Recovery
Are you looking for more support in your outpatient eating disorders treatment? 

Do you sometimes struggle with what or how to cook meals that are supportive of your recovery? 

Do you feel like you don't have the skills in the kitchen to prepare simple meals? 

Would you benefit from eating meals within a pro-recovery environment?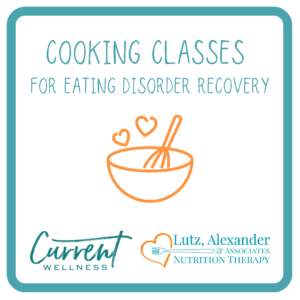 Current Wellness and Lutz, Alexander & Associates Nutrition Therapy are teaming up to offer cooking classes for adults with eating disorders. Theses classes offer support and instruction from an eating disorders Registered Dietitian in a collaborative teaching kitchen at Current Wellness. Each class will feature one simple meal that will be prepared, cooked and shared by group members. 
When: 
We are planning classes for 2024. These are brand new classes and we are gauging interest and need in our community. Please email anna@lutzandalexander.com to be added to our waiting list.  You'll be notified when our class dates are set!
Where:
 Current Wellness, 219 S East Street, Raleigh, NC 27609
Group Leaders:
Registered Dietitians that specialize in Eating Disorders from Lutz, Alexander & Associates Nutrition Therapy
Fees: 
BCBS Insurance Members: 
Lutz, Alexander & Associates Nutrition Therapy is in-network with BCBS NC and we can file for you for this nutrition group if you have BCBS insurance. (We are out of network with Blue Local and Blue Value.)  We encourage you to call the Customer Service number on your card to inquire about your coverage for CPT code 97804 (Medical Nutrition Therapy Group). Click here for more insurance details.
If you have a BCBS policy that has a limited number of nutrition visits per benefit year, please note that group sessions typically count towards that limit.

Signing up for the group reflects a commitment to attend. If you cancel less than 48 hours in advance, you will be charged a no show fee that cannot be filed with your insurance company. 
Out of Network Insurance Members (not BCBS):
Eligibility: 
Open to adults (18+) with an eating disorder or disordered eating.

Eating disorders are healed through connection and sharing food with others. Part of each class is sharing the meal we prepare. The dietitians will not be monitoring what or amounts group members eat. We will strive for the group to be a supportive, pro-recovery environment.  However, it will be up to each group member to do their best to fuel their body in support of recovery. If you need meal coaching, this may not be the group for you. 
Email anna@lutzandalexander.com or call 919-781-4500 to learn more and be added to our waiting list.